C
C o m m e n t s / R e v i e w s
D
D u t c h P r e s s C o m m e n t s
Kathy Parsons, Solopianopublications Aug. 2006 :
Concert for Civilization / Nient' altro che un sogno,
is Johan Bakkers third solo piano release and shows a great deal of artistic growth since his previous Whisperkiss (2000). The translation of the subtitle for the album, Nient altro che un sogno, is Just like (in) a dream. Nothing more. A fluid, dreamlike quality is present in all of the music , which was five years in the making. This CD has been chosen as the soundtrack for an international film being produced by Odelion in Paris.

Concert for Civilization is a very stirring musical work of Art that combines classical, new age, and ambient stylings in a deeply personal way. Im thrilled to know that Johan Bakker will be able to continue sharing his music with us! This CD is available from cdbaby.com and amazon.com. Recommended!

Sadly, the Dutch artist has been suffering from Pompe disease, which causes progressive muscle weakness and a great deal of pain. The creation of this album was Bakkers way of dealing with the situation, unsure of how long he would be able to keep playing the piano. The music is understandably moody, but doesnt convey despair or panic. It feels more like an open and heartfelt dialog with the piano , a trusted and beloved friend and comfort. Until recently, Bakker was unable to sit at the piano for more than five or ten minutes without a great deal of pain in his shoulders, arms, and legs. Happily, he is now using an experimental drug that is bringing tremendous improvement, allowing him to play pain-free for a longer and longer time - wonderful news indeed!"
(See this review on www.mainlypiano.com)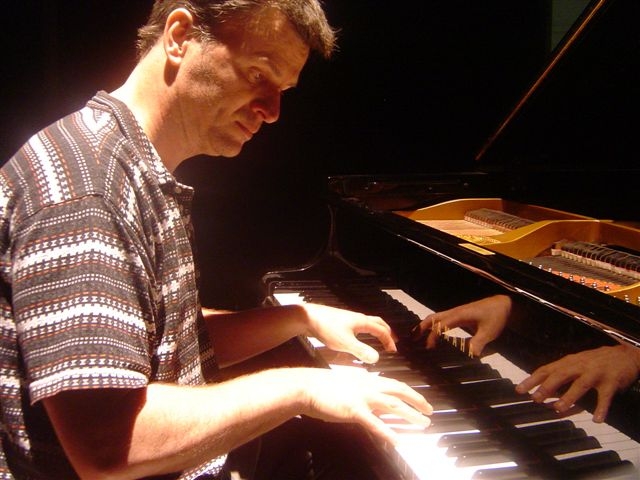 --------------------------------------------------------------------
Charlotte Dillon, All Music Guide:
Whisperkiss
.

.magnificent sophomore ..
..It took five years for Bakker's magnificent sophomore album,
Whisperkiss, to be released.
It has been called both moody and charming.
"Little Dance," "Gentle Melody," and "Tolerance and Emotion"
are some of the beautiful tracks on the recording that Bakker fans,
new or old, wouldn't want to miss. ..


------------------------------------------------------------------------------------
Concert for Civilization
This Dutch pianist opens with clean,
semi-formal lines redolent of traditional classical
but he soon delves into
the stirring phrases and deep-pedal layering of New Age.
It's an appealing cross,
taking a contemporary cue to follow the heart,
but not burdening us with heavy-handed sap.
========================================================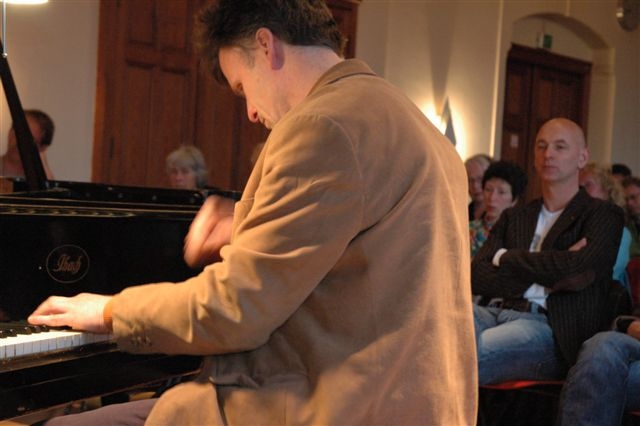 -------------------------------------------------------------------------------
"Whisperkiss"

by Kathy Parsons from
Solo Piano Publications Johan Bakker's second collection of original piano solos
is an interesting group of improvisations and composed pieces.
The Dutch composer is mostly self-taught, but his playing has an earnestness and sincerity that is compelling in its simplicity.
The pieces are mostly linear in that there are few chords on either hand, but that simplicity is part of the charm.
Most of the pieces have a melancholy feel to them, but none are what I would consider dark or really moody.
None are really joyful, either, so the album holds a fairly consistent mood throughout.
My biggest criticism of the album is that on a few of the tracks,
the piano doesn't sound like it's quite in tune and, as a pianist,
that bothers me.
On his website, Bakker cites comparisons people have made of his playing and composing style with David Lanz, George Winston, and Philip Aaberg.
The only similarities I hear with any of those three is that they all play the piano.
Lanz is much more pop, Winston is more folk, and Aaberg is one of the best pianists on the planet.
Bakker's pieces are fairly unstructured and seem to flow with a rubato feel and frequently-changing or non-existent time signatures.
"Whisper" sets the mood of the CD with a gentle sense of urgency.
"Little Dance" is described in the liner notes as "a small waltz meant to help you doing the daily dish washing faster than usual",
but it has a tragic quality that doesn't seem conducive to doing dishes.
It's a lovely piece, but sounds like a sad little dance done alone in a room full of long shadows.
"Tolerance and Emotion" is possibly the most powerful work on the album - it seems almost conversational, yet is full of passion.
"Gentle Melody" and "Breeze" are my favorite pieces on this CD.
Both are in minor keys, and have a poignant flow that I really like.
They seem to be especially heart-felt,
and perhaps a bit more structured than some of the improvisations.
"Plain Swing" is a bluesy little surprise.
It would have been a shame to have left off "Extra Recording" ,
as it also has a sweet poignance with a bit of Spanish spice.

See review also on www.mainlypiano.com
| Home | Piano Radio | Video | Listen Downloads | News / Concerts | Guestbook | Albums | Free | Chat | Johan Gallery | Comments / Reviews | Related |
Johan JSolco Bakker Official Website